Cave Emery
Setting up e-commerce and automating accounting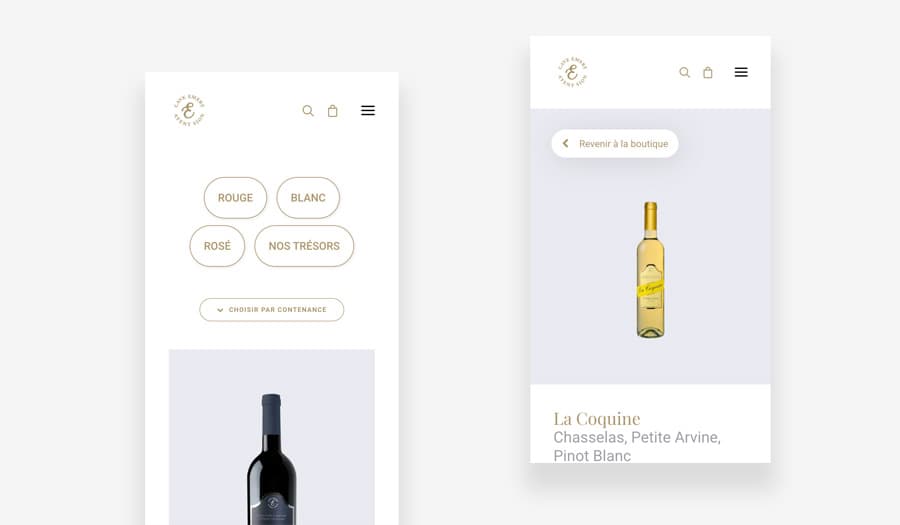 E-commerce and simplification of the ordering process
Cave Emery SA, an 86-year-old family business, produces its wine in the heart of the Valais terroir. With their products present all over Switzerland, it was necessary for them to update their digital platforms and upgrade their online shop.
Challenge
The management of stock and online accounting can be complex, especially for companies seeking to broaden their digital reach. Our challenge was to develop a solution that integrates a simplified user experience for visitors while respecting and automating the accounting system.
Solution
We designed a solution that combines an intuitive user interface for customers and an integrated stock management and accounting system for Cave Emery in Valais. Our web application development team created a simplified interface design, making the user experience smooth and attractive while automating accounting.
Automation of stocks and accounting
Our solution integrates a complete automation of stocks and Winbiz accounting. This integration allows efficient stock management and accurate accounting while facilitating the ordering process for customers. Thus, the user experience and stock management are significantly improved.
Conclusion
19 months after going online, the site has registered over 25,000 sales of items and the website has recorded over 20,000 visits during this period. This represents no less than 2,000 bottles of wine that are now sold per month via the e-commerce site.
Rôle
Consulting / UX / UI / Développement
Technology
WooCommerce / Wordpress / Winbiz