Curacasa
A web application for over 2800 independent nurses throughout Switzerland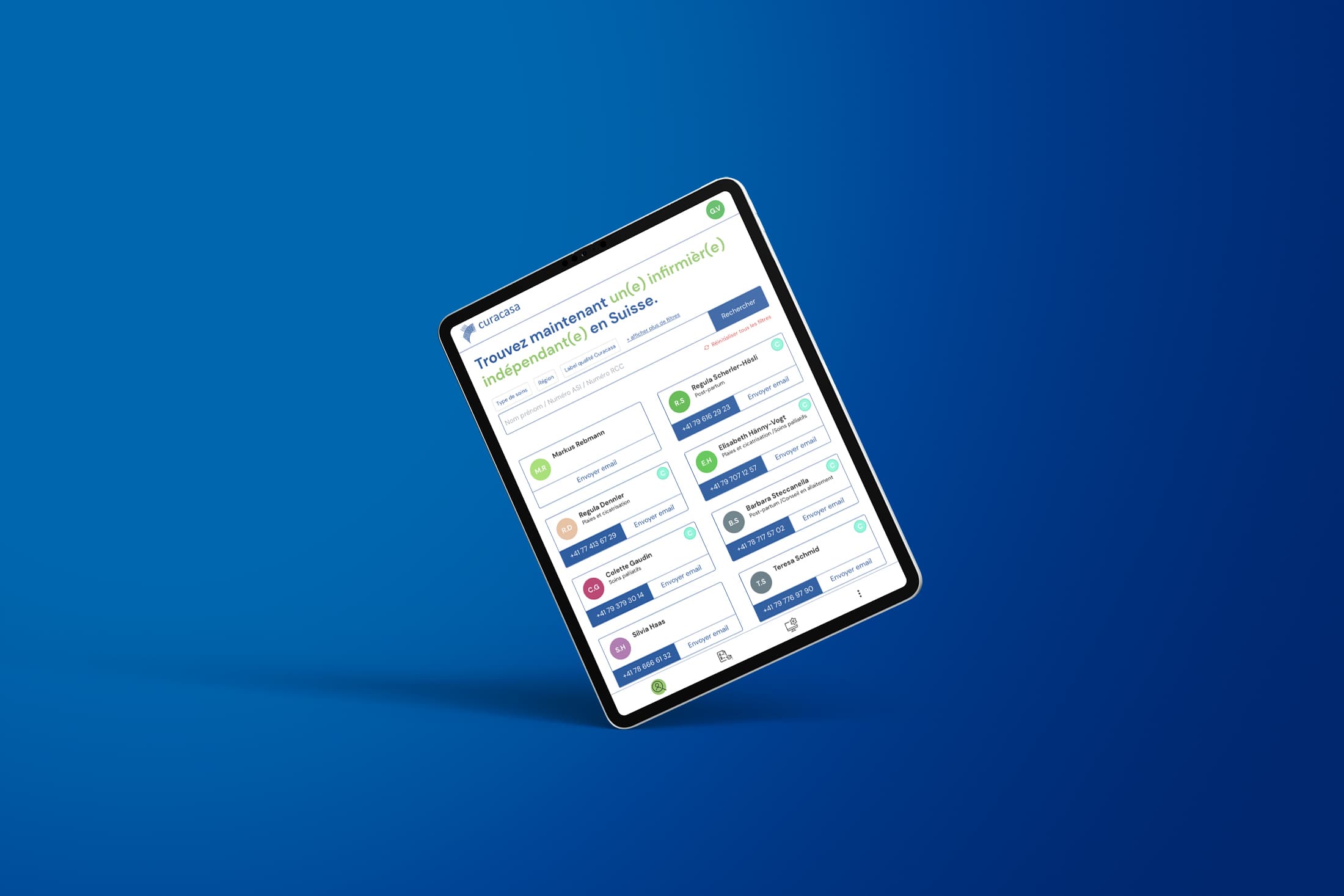 A customized application
The health landscape is constantly evolving, and the over 2800 independent nurses in Switzerland play a crucial role in providing quality care on Swiss soil. Commissioned by Curacasa, we developed a web application allowing these healthcare professionals to be more visible online and to validate on our platform the necessary quality labels and data for their practice and Curacasa member status. We thus introduce an innovative tool tailored to the specific needs of home care in Switzerland.
Challenge
The validation of the status of an independent nurse in Switzerland is strict, making its management all the more complex. Tracking the various trainings of nurses, assigning their different labels, and managing billings is a meticulous and time-consuming task. It's also challenging for patients and doctors wishing to use the services of independent nurses to find the right nurse suited to their needs.
Solution
Our automation of the various features has allowed Curacasa's administration to manage its members much more efficiently. A complete overhaul of the interface enabled us to highlight the primary nurse search functionality. Profiles and search filters also optimized the time spent searching for a suitable nurse.
"In nursing, one must be able to combine medical knowledge, human values, and attentive listening to the patient. The collaboration with ESAHO shows that this is also possible in the digital world: technical mastery in the code and heart between the lines."
President of Curacasa - Gérard Villarejo
Automation and ERP Integration
We technically supported Curacasa in their choice of ERP in 2022 and integrated automation processes within our new web application by directly connecting it to the ERP, centralizing data and billing management. An invoice paid in the centralized accounting system directly updates user access rights to various application features without complicated intervention, and profile management is also centralized in the ERP, eliminating any unnecessary redundancies.
Data Migration and Quality
The decision was made to ease the application's use by migrating the old nurse data directly into the new environment, allowing for a smooth transition to the new platform. Managing the self-assessments to be completed by the nurses was also another central aspect of the application. An overview of self-assessments ensures facilitated supervision of nurses' work for administrators.
Conclusion
The platform recorded +200% activity in the first month compared to its predecessor. No less than 15,000 pages were viewed in 30 days, and over 200 profiles were found on the platform in the month following the project's launch. Curacasa decided to re-hire us for the expansion of this successful first iteration.
Rôle
Consulting / UX / UI / Développement
Technology
Nuxt3 / Docker / Postgresql